In the Shadow of Warships
How foreign companies help modernize China's navy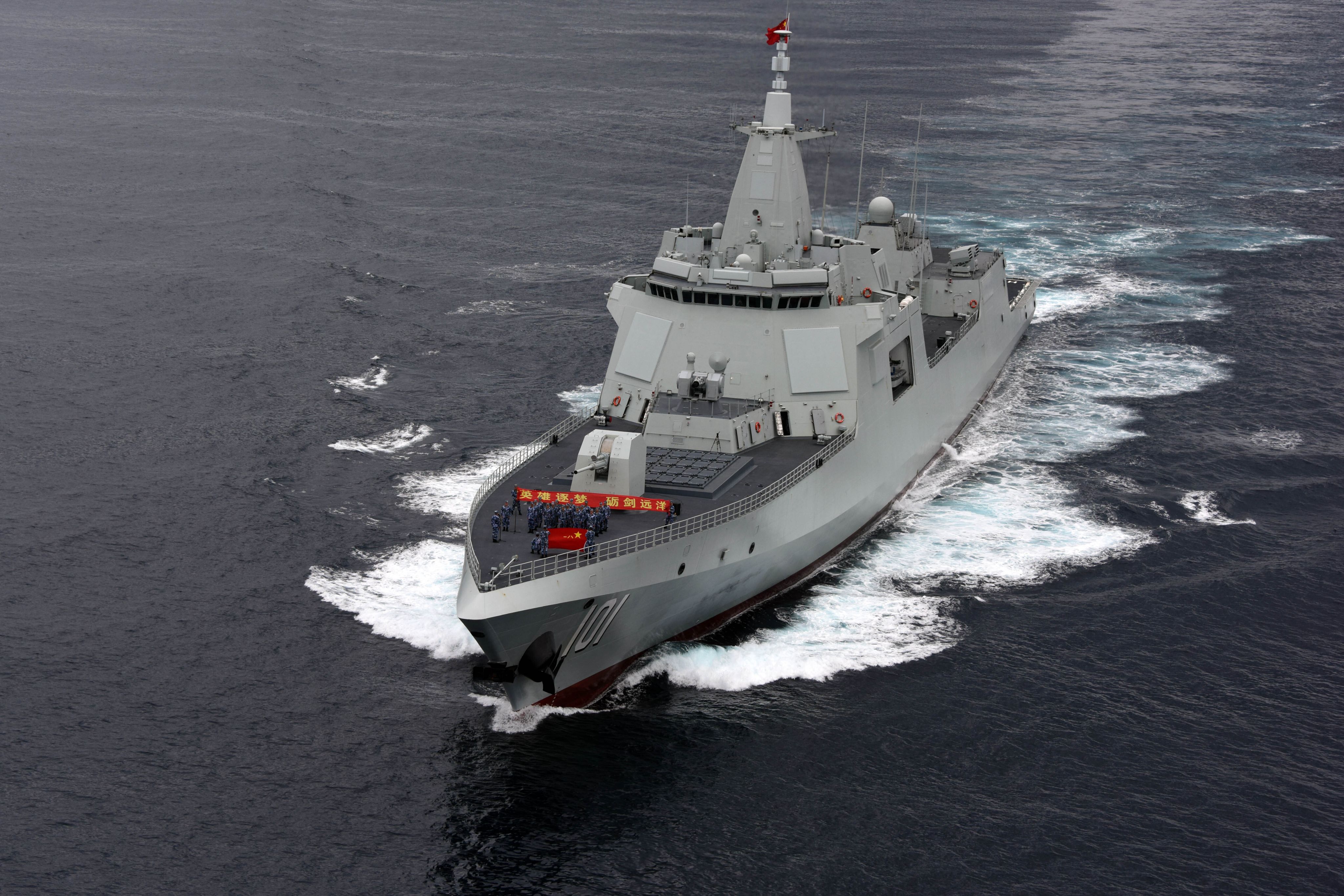 The global shipping industry is enjoying record profits, and merchant fleets are growing quickly to meet rising demand. Many of the newest hulls under construction will be laid down in China, but Chinese shipbuilders produce more than just container ships and tankers to ferry trade. They also build warships.
New research by the Center for Strategic and International Studies (CSIS) shows that the shipyards at the heart of modernizing the Chinese navy also attract billions of dollars of revenue and technology transfers from companies around the world. China's opaque business ecosystem offers limited transparency into the flow of capital within its shipbuilding industry, but available evidence indicates that profits from foreign orders likely lower the costs of upgrading China's navy.

China is one of only a handful of countries capable of building the large ocean-faring vessels that transport around 80 percent of global trade in goods. The industry leader is China State Shipbuilding Corporation (CSSC), which alone holds a 21.5 percent share of the global shipbuilding market. The sprawling state-owned enterprise was formed in 2019 by the merger of China's two largest shipbuilders, and today it directly controls over 100 subsidiaries.
CSSC is more than just a commercial shipbuilding giant. It also produces warships for the Chinese navy. The company proclaims itself to be the "main force" in furthering the development of naval weapons and equipment in support of national defense. CSSC is a linchpin in Beijing's military-civil fusion (MCF) strategy, which aims to upgrade the People's Liberation Army (PLA) and level up China's military science and technology industries while simultaneously strengthening instruments of national power across the board.
The People's Liberation Army Navy (PLAN) already possesses the largest navy in the world (by number of vessels), and the sophistication of China's surface fleet is quickly advancing—in large part thanks to vessels produced by CSSC. When then-president Donald Trump issued an executive order in November 2020 prohibiting U.S. individuals and companies from investing in 31 Chinese firms tied to the PLA, it came as little surprise that CSSC was among those blacklisted.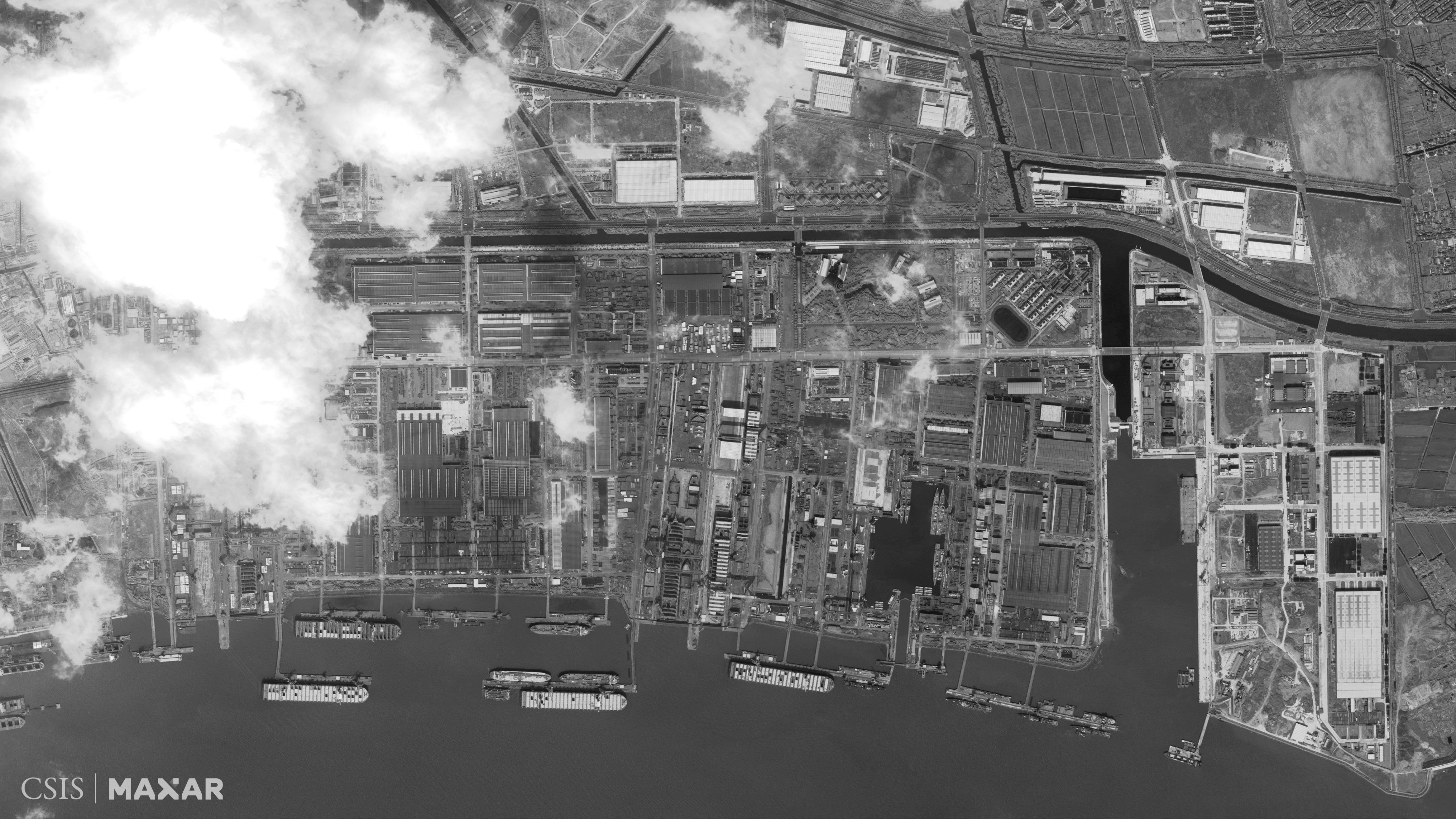 Jiangnan Shipyard. May 24, 2020. Copyright © 2022 by Maxar Technologies.
Jiangnan Shipyard. May 24, 2020. Copyright © 2022 by Maxar Technologies.
Yet, the well-documented connections between CSSC and the Chinese military have done little to dampen its commercial operations. Four shipyards operated by CSSC subsidiaries—Dalian, Jiangnan, Hudong-Zhonghua, and Huangpu Wenchong—are of particular interest. They collectively produce scores of surface combatants for the PLAN and attract shipbuilding contracts in the millions (and sometimes billions) of dollars from companies based outside of China and Hong Kong.
Data collected by CSIS reveals that between 2019 and 2021, these four CSSC-owned shipyards received orders for at least 211 commercial vessels. Foreign companies ordered 64 percent of these ships. CSSC's public filings offer little to no insight into how much foreign sales help buoy China's naval buildup, but commercial satellite imagery suggests there is direct sharing of resources between military and civilian operations at China's key shipyards.
This blurring of military and commercial activity is best exemplified at Jiangnan Shipyard. Nestled on the mouth of the Yangtze River near central Shanghai, Jiangnan is where China's third and most capable aircraft carrier, known as the Type 003, is being constructed. Right next to the warship, work is underway on a commercial container ship that bears a distinctive green hull, the hallmark of Taiwan's Evergreen Marine Corporation.
As one of the largest shipping companies in the world, Evergreen has an almost ever-growing need to expand its fleet. Evergreen container ships are a common sight at Chinese shipyards. Commercial satellite imagery from February 21, 2022, shows at least three Evergreen hulls under construction near China's Type 003 aircraft carrier.
Just over a year earlier, imagery from January 2021 shows another Evergreen vessel docked alongside two Type 055 cruisers and a Type 052D destroyer.
CSIS data reveals that Evergreen has purchased at least 44 vessels from China since 2018.
All but two of these were ordered from shipyards known to produce surface combatants for the PLAN.
Buying merchant ships from China presents a real security concern for Taiwan. The island lives under constant pressure from Beijing, which seeks to unify Taiwan with the Chinese mainland, by force if necessary. It should raise more than a few eyebrows in Taipei that Taiwan's premier shipping company is pouring money into the coffers of shipyards assembling warships for the Chinese navy.
Evergreen is by no means the only foreign firm that relies on China's shipbuilding prowess. French shipping titan CMA CGM has placed at least 46 orders totaling several billion dollars with a handful of Chinese shipyards since 2017. These orders include some of the world's largest container ships powered by liquified natural gas (LNG), many of which were built at Jiangnan. In a near perfect encapsulation of the growing worry over "dual-use" technology, the same dry dock where the Type 003 currently sits was previously occupied by a CMA CGM container ship.
Companies from other leading democracies are likewise pumping capital into China's shipbuilding industry. Switzerland's Mediterranean Shipping Company, the largest container shipping company in the world in terms of cargo capacity, ordered three container ships from Dalian in March 2021 and another six in January 2022. Kawasaki Kisen Kaisha (K-Line) and Mitsui OSK Lines from Japan, a country that boasts its own robust shipbuilding industry, have ordered 13 LNG carriers from China since 2019. Eleven of these will be constructed at Hudong-Zhonghua, where China built its first three Type 075 amphibious assault vessels.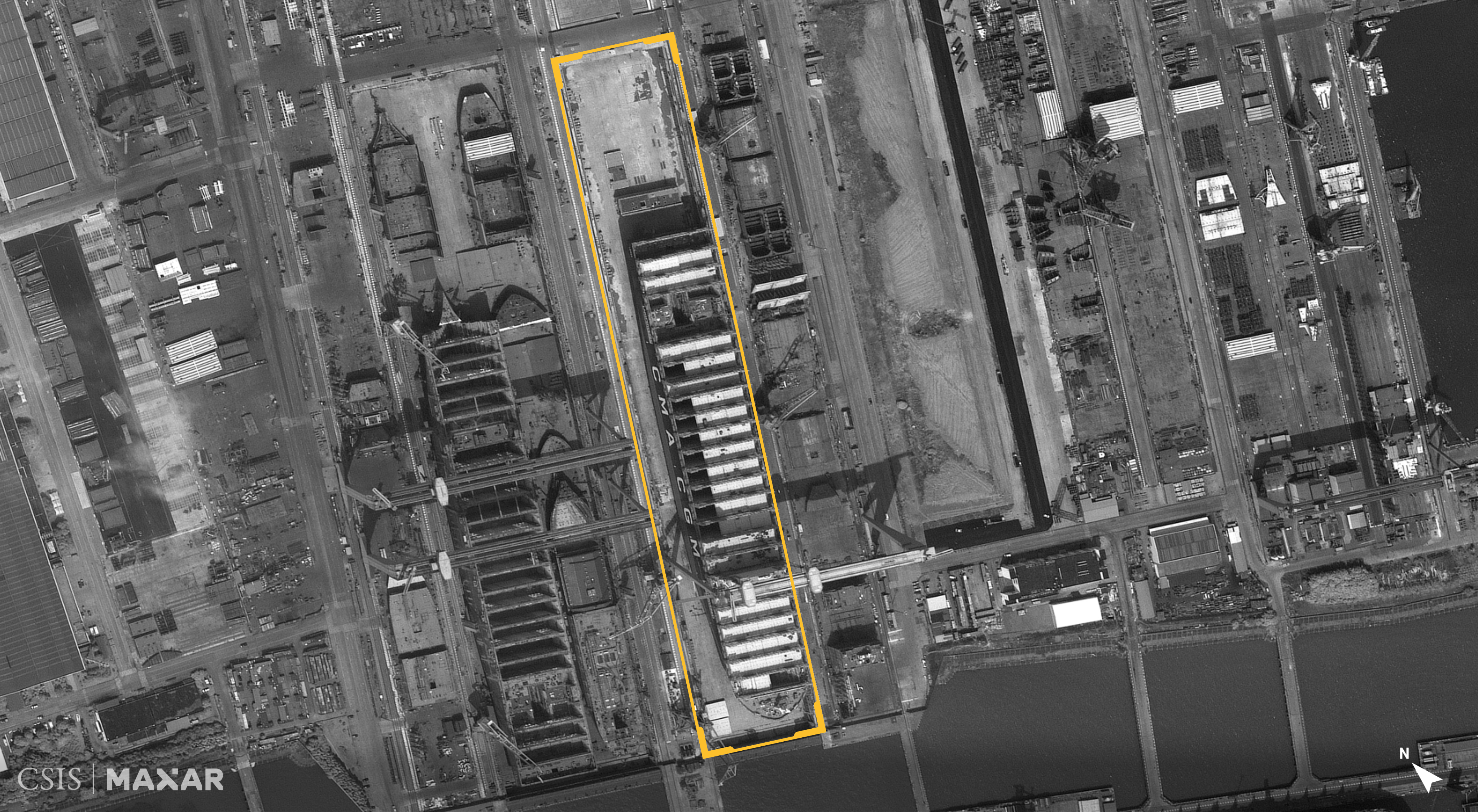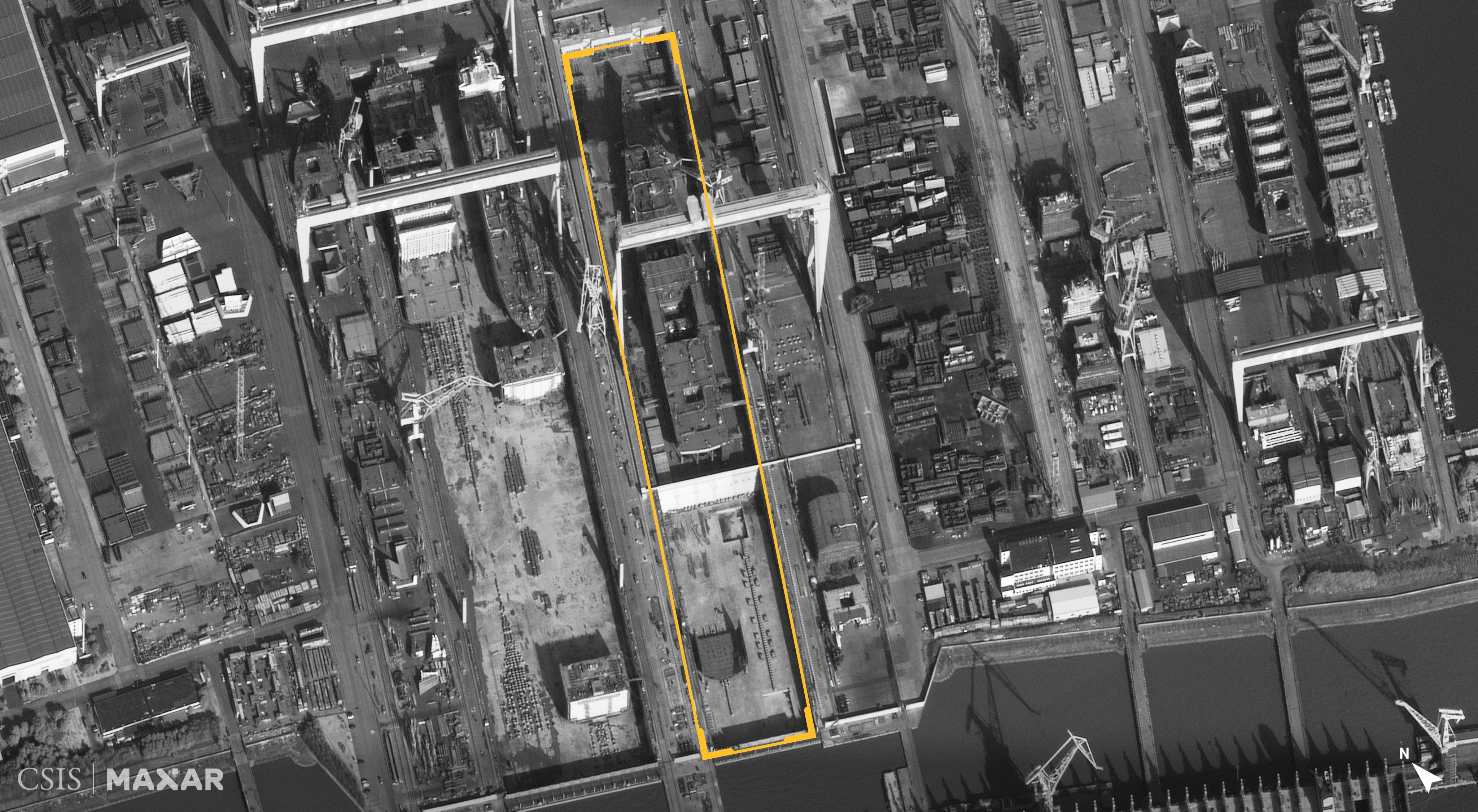 CMA CGM Container Ship
Type 003 Aircraft Carrier
Foreign companies are tied to Chinese shipbuilders by more than just purchase orders. They also share technology and know-how with CSSC subsidiaries. French multinational naval engineering company Gaztransport & Technigaz SA (GTT) has entered into several agreements to make its technology available to Chinese shipbuilders. GTT also shares close ties with CMA CGM. According to reports released by GTT, over two dozen of the ships that CMA CGM ordered from Jiangnan and Hudong-Zhonghua since 2019 utilized GTT technology. GTT systems also feature in Chinese-built vessels for Hapag Lloyd (German) and Mitsui OSK Lines (Japanese).
Perhaps even more striking, in 2016, Carnival Cruise Lines entered a joint venture with CSSC to stand up CSSC Cruise Technology Development. As part of the $1.5 billion deal, Carnival transferred two of its existing cruise ships to the new joint venture. Another two vessels are being built at Shanghai Waigaoqiao Shipyard, located just across the Yangtze River from Jiangnan. While CSIS has not observed the construction of military vessels at Waigaoqiao, the shipyard is operated by yet another CSSC subsidiary.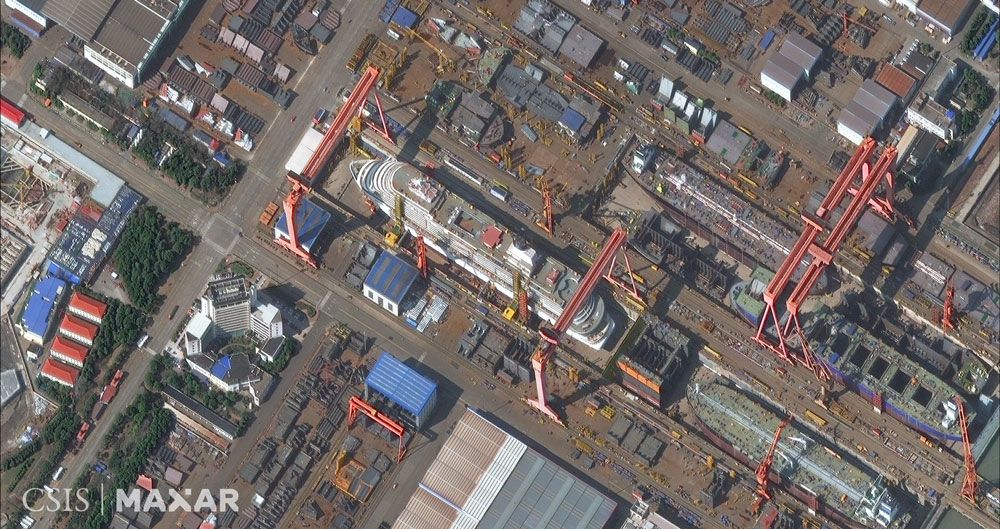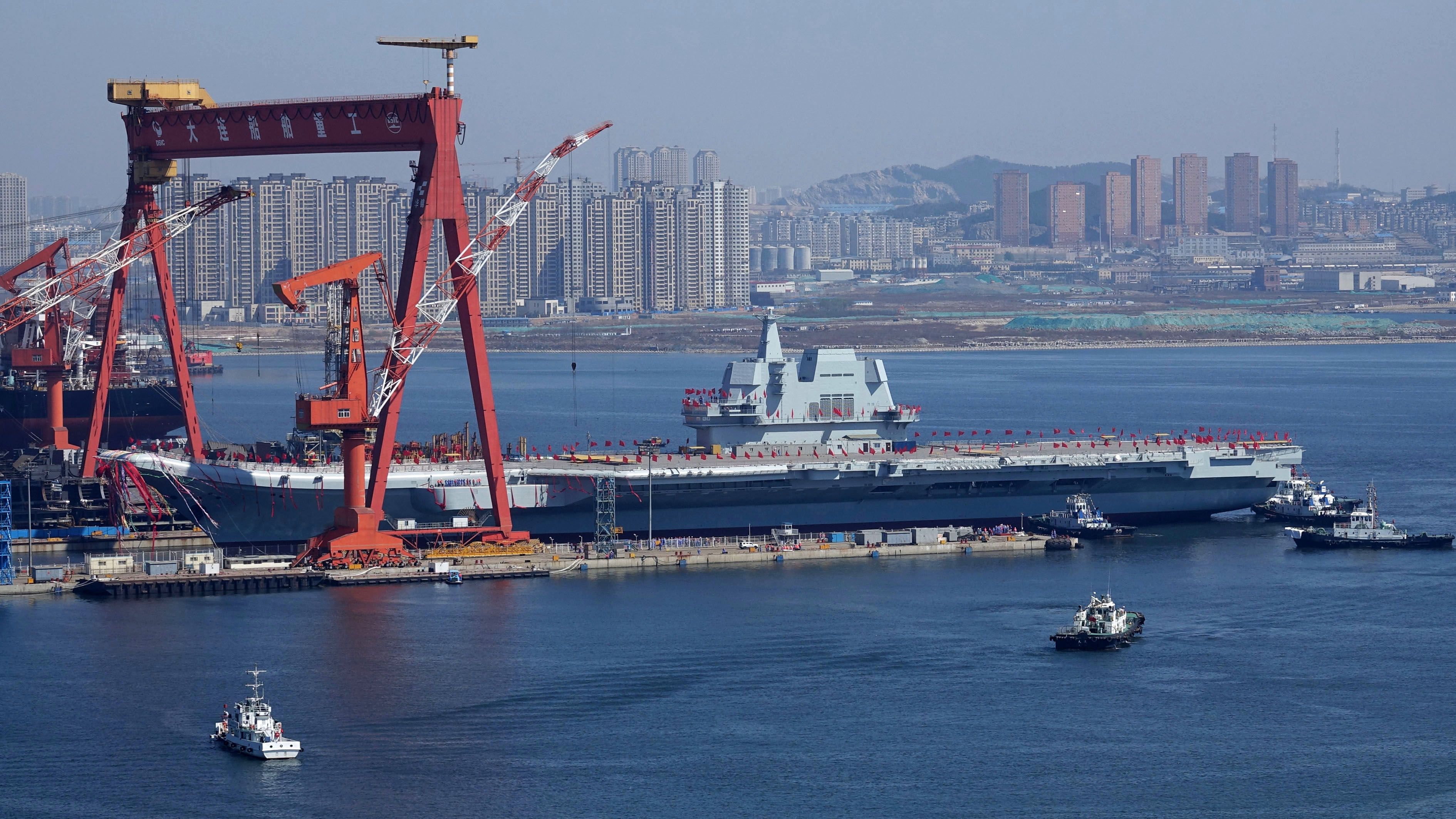 At face value, sharing capital and technology with CSSC subsidiaries may seem innocuous, but it should raise red flags for nations concerned about China's growing military power. Facilitating better resource-sharing between military and civilian ventures is a critical element of China's MCF strategy, and many of China's shipbuilding facilities are being used for both commercial and military operations. Foreign capital can also aid in offsetting the research and development costs of military assets. Workers trained to construct commercial vessels may even be able to transfer some of their skills when working on PLAN warships.
Access to foreign commercial technology and know-how may inadvertently help China innovate in the military realm. Hu Wenming, the former chairman of China Shipbuilding Industry Corporation (which was part of the merger that formed CSSC) spoke openly in 2017 about the critical role that technology innovation plays in enabling companies to compete. He added that "the field of military products is very high-tech and innovative, so without the necessary amount of technology, it is very hard to enter this industry."
Despite all the warning signs, market conditions have incentivized foreign companies to wade into the Chinese shipbuilding industry. This is a familiar story. Huawei was an established telecommunications leader before the United States and other governments raised the alarm about the company's links to Chinese military and security forces. Foreign ties to China's solar energy companies are under increasing scrutiny for connections to ongoing human rights abuses in Xinjiang.
Given CSSC's lack of transparency and its central role in supporting the PLAN, foreign companies should exercise more caution when engaging with it and other Chinese shipbuilders. For democracies, especially those in the region that must weather the brunt of China's rising assertiveness, these ties are more than just worrying. They present a tangible threat to national security.
There is, however, a silver lining. South Korea and Japan are the leading alternatives to China in the global shipbuilding industry. Both are open and transparent democracies that are allied with the United States. Policymakers in Washington should explore opportunities to incentivize foreign companies away from China and toward partnerships with South Korean and Japanese alternatives. The shift will not be easy or immediate. Short-term capacity issues will arise. But in managing hard choices vis-à-vis China, especially those critical to national security, the United States should be prepared to steer the lead ship.

Matthew P. Funaiole is the director of the iDeas Lab and senior fellow with the China Power Project at the Center for Strategic and International Studies (CSIS) in Washington, D.C. Brian Hart is an associate fellow with the CSIS China Power Project. Joseph S. Bermudez Jr. is a senior fellow for imagery analysis (non-resident) with the CSIS iDeas Lab and Korea Chair.
Special thanks to Tucker Harris, Jaehyun Han, Samantha Lu, and Jennifer Jun for their support in developing this feature.
Satellite Imagery: Copyright © 2022 by Maxar Technologies
Header Photo: Sun Zifa/China News Service via Getty Images
Section header photo: STR/AFP via Getty Images
Established in Washington, D.C. nearly 60 years ago, the Center for Strategic and International Studies (CSIS) is a bipartisan, nonprofit policy research organization dedicated to advancing practical ideas that address the world's greatest challenges.